Course Name

:-

 Learn Offline MVC 5 with overview of MVC Core, Angular in 2 days with a Project
Date

: –

Sat 22nd April and Sun 23rd April 2023.
Cost
: –
7000 is the cost for 2 days offline training.
How to Join?
Click Here
Key Features
No PPT's completely Hands-on training with MVC 5/MVC Core project.
You have to just come with your laptop (VS 2022/2019 Community Edition & SQL Server 2019/12/14 installed).
A complete MVC hand ebook and 16 hours of recorded videos on MVC will be included for future revision.
Tea/Coffee as refreshment will be provided.
All at only 7000 INR
Learn MVC 5, Angular with Employee screen project.
What's the best way to learn any technology, create a project. That's what we are exactly doing in this two days MVC course.
This course is of 2 days where in we will be creating a simple Employee screen with authentication enabled on the project. To achieve this we will be using MVC 5, JSON, Angular, Web API and Dependency Injection.
This project will follow the below architecture. UI will be created in HTML and served through MVC. Angular will act as a binder between server and HTML. Web API will provide JSON data using Entity framework code first approach.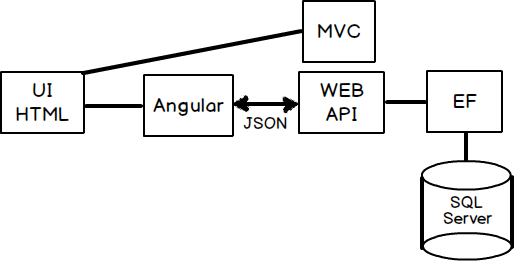 Below is the syllabus
: –
Day 1

9:30 AM to 10:00 AM

Check installation, issues, faculty and students get connected. We would suggest people to come by 9:30 so that you can get fresh, start your systems and be ready for the marathon run of the day.

10:00 AM to 11:00 AM

1. Why MVC as compared to Web forms? ( Theory)
2. Creating the new project and understanding :-

The folder structure and importance of each folder.
Different templates of MVC
Understanding the view folder structure.
Creating the project screen and Running the application.

3. Routing in MVC

11:00 AM to 11:15 AM

Tea and Biscuit breaks.

11:15 AM to 1:00 PM

This is a marathon run
4. Data annotations and validations.
5. Javascript and typescript fundamentals
6. Jquery with MVC (removing full post backs).

1:00 PM to 2:00 PM

Lunch. Tip have less food as it can make you sleepy. After lunch any time you feel sleepy feel free to wash your face in between. Faculty understands how it feels after lunch.

2:00 PM to 4:00 PM

7. Upgrading from jQuery to Angular with MVC.
8. View data, temp data and Session.
9. Action filters in MVC

4:00 PM to 4:15 PM

Tea Break

4:15 PM to 6:30 PM

10. Asynchronous controllers
11. Error handling
Day 2

10:00 AM to 11:00 AM
1. WebAPI fundamentals
2. Connecting Angular to Web API
11:00 AM to 11:15 AM
Tea and Biscuit break
11:15 AM to 1:00 PM
3. Authentication and Authorization
4. Bundling and Minification
5. Cross site scripting and Antiforgery
1:00 PM to 2:00 PM
Lunch
2:00 PM to 7:00 PM
6. Using Entity framework with MVC
7. DI and IOC
8. MVC 1.0 core fundamentals
9. Important Javascript frameworks

Node JS
SystemJS
TypeScript
Shim JS
ZoneJS
ReflectJS
Venue
: –
3D4, 3rd Floor, D-Wing, Gundecha Onclave, Kherani Road, Next to Post Office, Sakinaka, Andheri (East), Mumbai – 400072.
Save